Dear parents, carers and grandparents,
It gives me great pleasure to warmly welcome you to St Anne's Catholic Primary School, Ormskirk. We are fully committed to providing the best possible Nursery provision for children aged three years and above. We view the Nursery as the first year of our children's foundation to learning. The whole school curriculum begins from when your child enters the Nursery classroom. Children in the Nursery provision have access to not only the excellent facilities in the Nursery classroom, but also access to the excellent facilities across the whole school environment. This helps build and secure the essential foundations for our children's future learning.
St Anne's mission statement is "Loving God in all we do". This mission statement extends fully into the daily lives of all who work, play and thrive in our Nursery provision. We firmly believe in trying to provide the best possible education and pastoral support for all our children with the teachings of Jesus Christ at the centre of all we do.
St Anne's Nursery provides a supportive, nurturing, safe and stimulating environment for children to learn and play in. We have a team of four members of staff who have been with the nursery for the past 20 years. Due to our very low staff turnover, our families know all the staff really well and this relationship provides the essential trust, security and familiarity that families wish for.
St Anne's Nursery is open from 7.45am – 6pm providing a breakfast and after school club for those families requiring it, with the school day sessions running between 8.45am - 11.45am and 12.30pm – 3.30pm.
Lunch is served between 11.45am – 12.30pm. Our children really love eating in their dinner in the infant school hall and enjoy freshly cooked meals everyday from the school kitchen. Parents using the 15 hours universal funding and those also using the 15 hour extended funding can access the nursery, breakfast and after school sessions to fit in with their entitled hours of funding.
Please take time to read the following nursery documents. Visits to speak in person are always welcome.
Many thanks,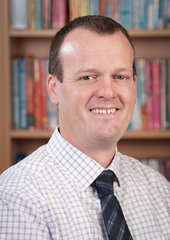 Mr Philip Bates
Headteacher
BA Hons, QTS, NPQH, NASEN
Nursery Documents